Prince Charles and Looking Good
Well, Prince Charles and Camilla are visiting the United States this week. Charles is expected to tell President Bush all about how he needs to get cracking on the Kyoto Treaty and how people should be terrified about global warming and, oh yes, how the United States should start showing more respect to Muslim countries and how racist, unsophisticated and provincial we are here in the United States.
As a tribute to Prince Charles and in honor of his visit I offer this small portfolio of what Charles would no doubt refer to as his Halloween Costume "haberdashery."
Prince Charles dressed as Count Dracula
Prince Charles dressed as a leprechaun (probably for St. Patrick's Day) in the hopes of making friends with the Irish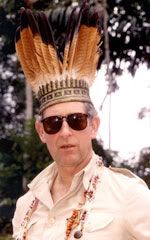 Prince Charles dressed as a Native American to remind everyone that the British once joined with the American Indians to fight off the French in the "colonies" way back when the sun never set on the British Empire and all that.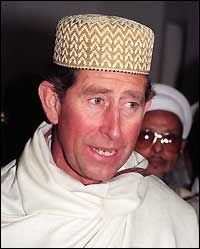 Prince Charles dressed to kill in his Muammar Ghadaffi costume

Prince Charles in today's Halloween costume looking very convincingly like a Hotel doorman (I am not making this up. This is what he actually wore today, October 31, 2005).
Like St. Paul, Prince Charles clearly believes that he "
can be all things to all people
." Except, in Charles' case, the people are snickering.
Note to Prince Charles: Please set your own house in order before telling us what to do. You know what I mean....you are aware, of course, that Muslims and Blacks have been rioting against each other in Birmingham, England this past week (Note how the
British news
calls the rioters "asians" so as to avoid calling them Muslims/Pakistani immigrants). I haven't seen much of that in the U.S. lately. Perhaps we should treat Muslims just like the English do, what?