Jeb Bush Snubbed by University of Florida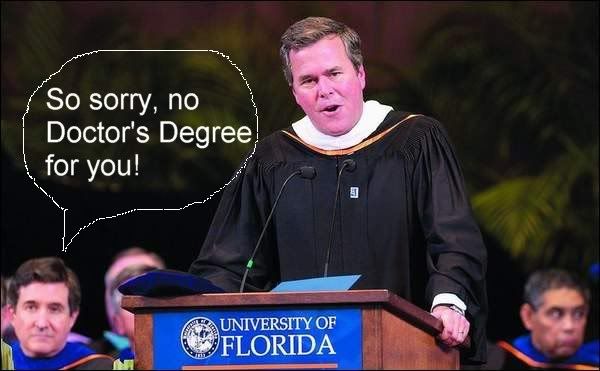 Gee, it seems that almost everybody is getting honorary doctor's degrees these days. Usually all it takes is to donate $1 million or deliver a commencement address.
At the University of Florida, however, faculty are getting either more stingy or more selective as to who they are willing to give this so-called honor.
Former Florida Governor Jeb Bush, nominated to receive such a degree by the University "Honorary Degrees, Distinguished Alumnus Awards and Memorials Committee," was blackballed on a vote of 38-28 by the full faculty senate.
The University's President is reportedly "dismayed" by the vote but I'm sure that Jeb won't mind. If the collective total of earned degrees carried by the members of the University of Florida's faculty senate don't add up to any more common sense that this then how much value can there be in an "honorary" degree?
In any case, if you have not yet decided whether or not to send your child to the University of Florida next Fall, this might help tip the balance towards a school that holds a higher "degree" of respect for tolerance and diversity.
ht:
wdvh980
for the original photo (which they cribbed from elsewhere)