New Episcopal Bishop of Hawaii Ordained In Honolulu
Newly Ordained Bishop of Hawaii Bob Fitzpatrick
I was honored to receive an invitation to attend the ordination of Robert Fitzpatrick as the 11th Episcopal Bishop of the Hawaiian Islands and the 6th Bishop of Hawaii. I have enjoyed collegial relations with outgoing Bishop Richard Chang for the past several years and looked forward to today's service at St. Andrews Cathedral less than a block from the State Capitol Building in downtown Honolulu.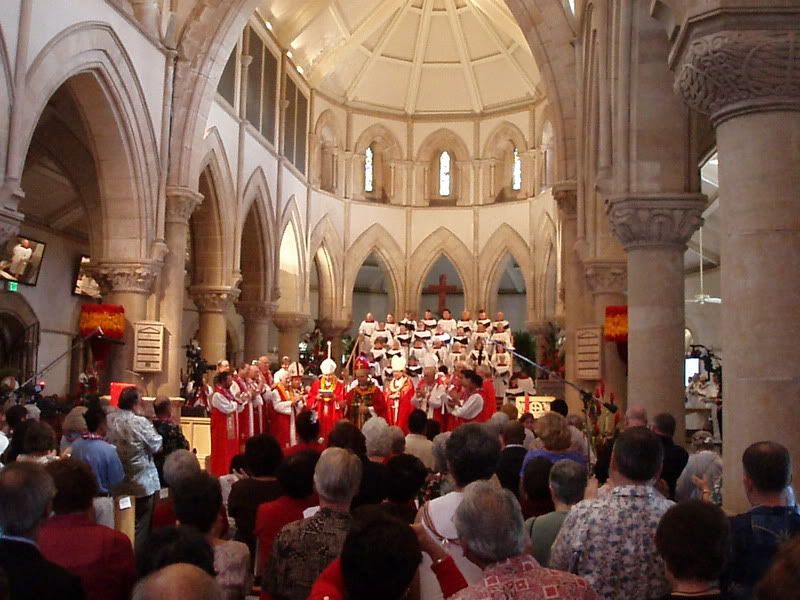 General overview of the Cathedral
There was the usual Episcopal finery and straight-from-the-Book-of-Common-Prayer liturgy. As always the music was superb and uplifting (especially a magnificent setting for the Veni Creator Spiritus by cathedral Music Director Arlan Sunnarborg set for Hawaiian Chant, Hula [Kahiko] Latin and English and double choir).
Emeritus Bishops Chang & Browning
Bishop Chang's predecessor, The right Reverend Edmond L. Browning, who also served as the Presiding Bishop of The Episcopal Church offered the sermon and the Chief Consecrator for the service was The Most Reverent Katharine Jefferts Schori, the current (and first woman) Presiding Bishop and Primate of the Episcopal Church (USA).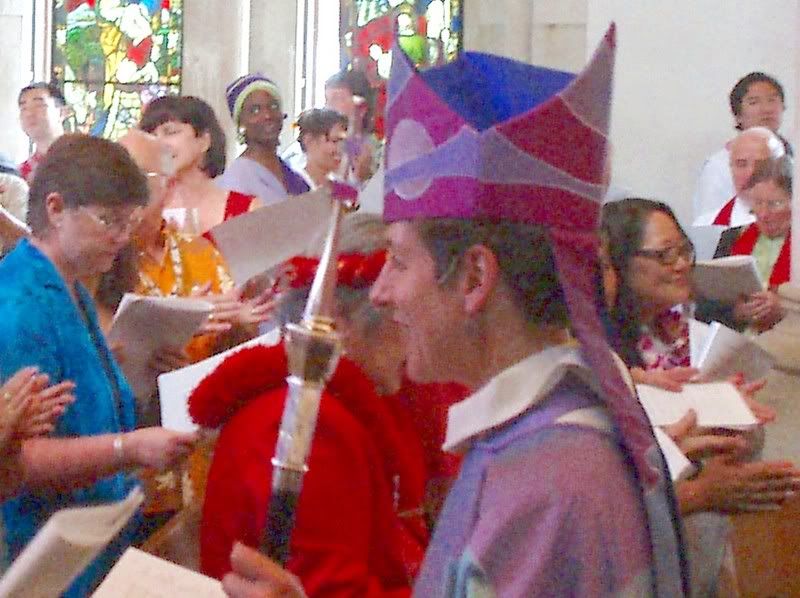 Presiding Bishop Katharine Jefferts Schori
There is lots of national and international conflict these days over the ordination of an openly and sexually-active gay Episcopal Bishop several years ago. Until the denomination affirms a position that bans such ordinations in the future it is in effective limbo/probation as regards its formal ties to the world Anglican Communion.
Today's focus, however, was on the passing of spiritual, pastoral and apostolic authority to the next Bishop of Hawaii. It was done with just the right touch of Anglican-formal, Hawaiian-informal style and grace.
Words of Consecration from Bishop Jefferts Schori
As Bishop Emeritus Browning pointed out, every new Bishop inherits a crisis or controversy not of their own making . . . and their has never been a time when a new Bishop took office without some measure of conflict at work in the church. Such is the nature of a church that is "in the world" yet "not of the world" (as Jesus put it). There will always be tension and friction between the here and now and the not-yet.
Presentation of Bishop Fitzpatrick to the Congregation
In any case, God was worshiped and glorified today in Honolulu and this is, in and of itself, no small thing.
The following pictures capture some of the occasion: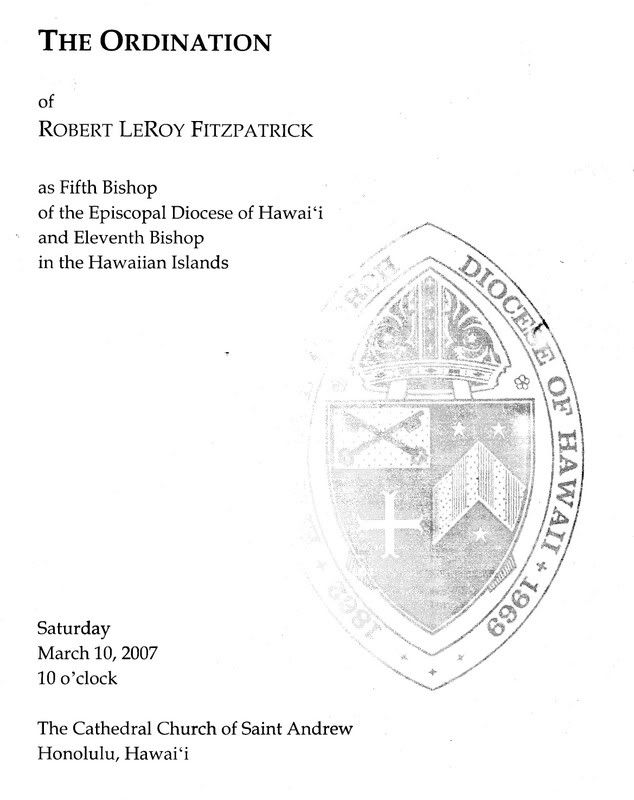 Program Cover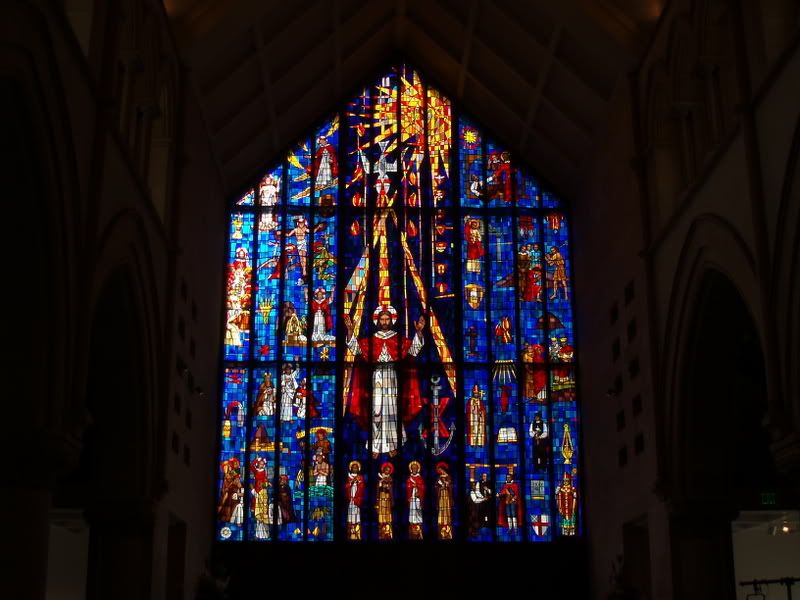 The Beautiful Stained Glass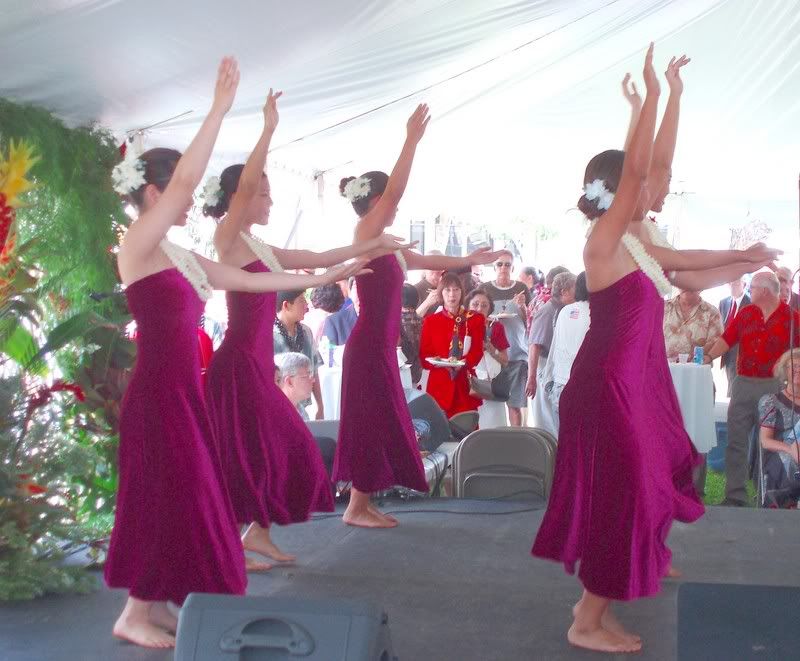 Hula dancers from Iolani (private Episcopal school)
perform after the service
Bishop Fitzpatrick ( & wife, Bea) enjoy traditional Chinese Lion Dance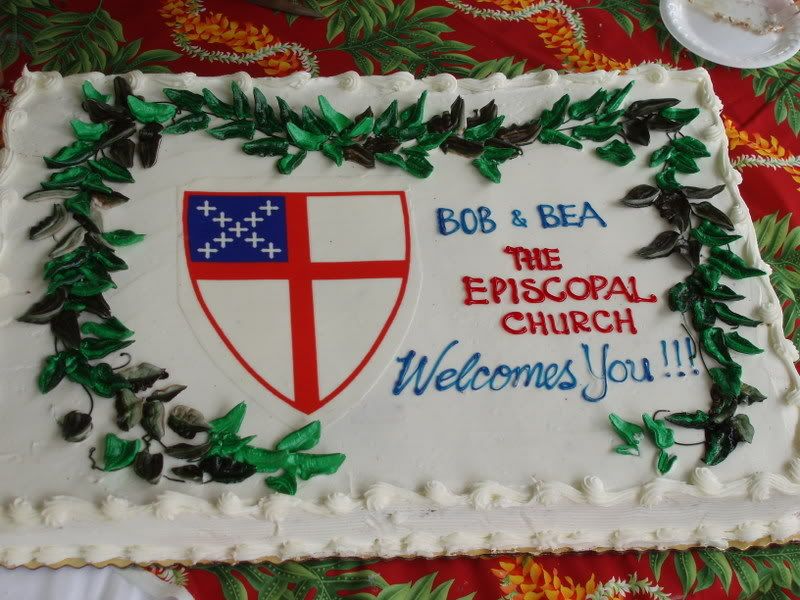 And yes, there was cake along with lots of aloha!