Cunard's QE 2 & QM 2 To Rendezous In Sydney Harbor
The two largest world-cruising
passenger liners will greet each other
in Sydney Harbor, Australia, on Tuesday. It will be reminiscent of the time back in 1942 when the Queen Elizabeth (1) and Queen Mary (1) met in the same harbor when they were serving as troop ships.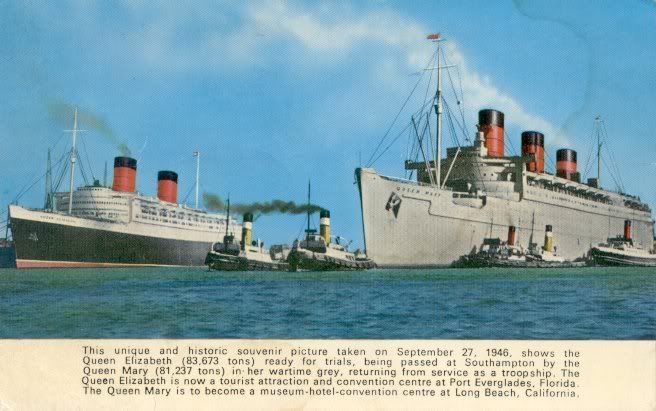 I have my own personal memory of these ships having seen the two "2s" dock in Honolulu just about a 30-minute drive from where I live in Hawaii.

More unique, however, I had the experience of seeing the original "1s" docked end to end in Southampton in 1966 during a British dock workers strike that had both ships empty and going nowhere fast.
My parents and I had just completed our own passage across the Atlantic on the SS Rotterdam, a new ship back then. Because the two Cunard liners were plying only the North Atlantic in those days, the Rotterdam, which also cruised in the Pacific, was considered to be the largest world-cruise ship at that time.
As we entered Southampton Harbour every passenger was on deck to enjoy the excitement of docking and disembarking. The bonus was moving at slow, slow docking speed past the two majestic and mammoth grand dames of passenger liners . . . one after the other.
As a 15-year old I remember being suitably impressed and overwhelmed by their size. Next to them the Rotterdam seemed to be a mere toy as we craned our necks upward at the great stacks and soaring superstructures of the original Queen Elizabeth I and Queen Mary I.
At the slow speed we were moving it seemed like it took nearly forever to sail past those two ships. It was a wonderful and memorable way to arrive in England for the first time.
I have no doubt that the folks in Sydney, Australia, will be enjoying their own sense of awe and wonder with the latest reincarnations of the the golden days of luxury passenger liners.