Trip to Jordan Post #1
Well, here I am in Jordan. I won't take time to say much except that I'm having a great time. I had my hair cut this evening down the street from my hotel in Amman. The hotel wanted 10 JD (Jordan Dinars) but the local barber charge only 3 JD. One of the barber's friends, named Hassan, walked back towards the hotel with me…carrying my shopping bags as a gesture of friendship. Hassan is a Palestinian born in Saudi Arabia but now living in Jordan and attending University studying computer graphics in Jerash. I think he had fun trying out his English on me. His family is originally from Nablus.
Anyway…after one full day here in Amman and northern Jordan here are a few photos of things so far.
This is Wesel. He is a Yemani working hard in the United States to support his wife and extended family who remained back in Yeman. This photo is at JFK just before we flew to Amman. He has not seen his wife in 1 1/2 years.
This is Rory Carroll. He is from Ireland but is a staff writer for the Guardian (UK) newspaper. He is returning to Baghdad where he has been covering the unfolding story in Iraq for the past year. He will return home to England in January. We had much to talk about as we sat together from NYC to Amman.
This is a Jordanian dagger I purchased last evening. I will exchange it for one slightly larger tonight.
This is the Sea of Galilee from the Jordanian overlook at Um Qais. This is the site of the ancient Greek/Roman city of Gadara, the location where Jesus cast out demons from a man and put them into a herd of swine. This is a favorite spot for Palestinians to come and look across at their old homeland, yearning to return. (Click on this one to see the Sea of Galilee more clearly).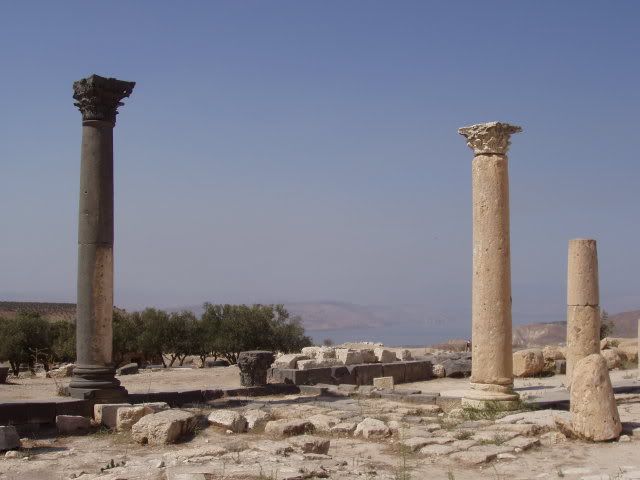 Bouganvlilea at the Um Qais cafe/coffehouse where we ate lunch.
At the Roman city of Jerash (like Gadara, one of the Decapolis) we came across Jordanian army musicians playing bagpipes and drums in the Western Roman Ampetheater. Jordan had once been a British protectorate and the late King Hussein had been educated in England, hence the odd juxtaposition of traditional Jordanian/bedouin garb and Scottish bagpipes.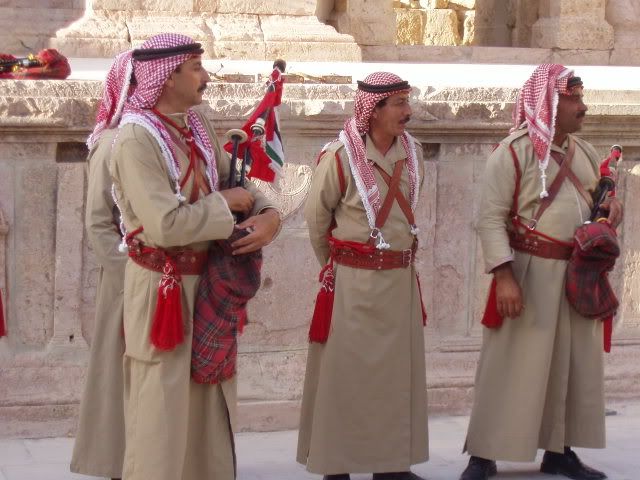 Also in Jerash this evening. Sunset at the Temple of Aphrodite.
This, I think, is a good place to end the post. Aloha and Salaam.