Landis' Tour de Force at Tour de France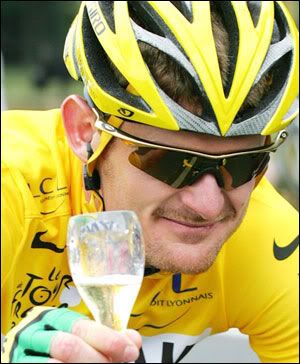 Well, it appears that even in France there is nothing that can ever be considered impossible again. Floyd Landis, American cyclist, came from 8 minutes behind four days ago to win the grandest cycling race of them all.
In what the Tour director described as the greatest single performance in the modern history of the race Landis regained all but 30-seconds of that 8+-minute deficit in one, incredible burst of energy and finished off all contenders two days later in the race's final time trial.
Today he cruised down the Champs Elysee, hoisting a glass of champagne along the way to celebrate the 11th American victory in the past 12 years.
Landis has now moved up from the shadow of Lance Armstong (for whom he has provided support over the past years as a member of the US Postal Service Team) and into the spotlight by his own right.
He did so with perserverence, determination and drama that often was lacking in Armstrong's annual, methodical destruction of everyone else. This year's race was a true competition and, in the end, the winner was the one who refused to lose.
Congratulations to Floyd Landis-- Champion!