Hawaii's Ewa Beach Wins Little League World Series
It has been a dream season for a bunch of boys who live and play baseball just a few miles from my home here on Oahu.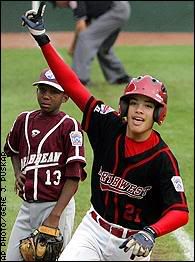 Michael Memea celebrates winning homer


Today, the dream of nearly every American boy came true for them as they defeated last year's World Championship team from Curacao in the
final game
of this years Little League World Series.
The team from Ewa Beach, Hawaii, took the early lead, gave it up and fell behind 3-1 in the top of the third inning. Back-to-back homers in the bottom of the third tied the score at 3-3.
In the fifth inning, Curacao took back the lead with two home runs of their own and held that lead, 6-3, going into the bottom of the sixth inning.
A bunt, a single and a potentially inning-ending double play ball that arrived at first base just half a step too late, allowed Hawaii to tie the game 6-6 going into the seventh and last inning.
Ewa's pitching held the defending champs scoreless in their half of the seventh.
The dramatic game then came to a sudden end as Hawaii's Michael Memea walked up to the plate and hit a lead-off, walk-off home run over the left field fence.
Hawaii is very proud of her boys from Ewa Beach. The coaches and parents have been "class acts" and have shown the world that the word "aloha" can be used in the same sentence as "World Champions!"