Examination of Contents of Judge John Roberts' Papers during his tenure as White House Counsel as Released by the Reagan Library
This post specifically concerns the following boxes of materials:
Box 3-JGR/Appointee Clearances 10/01/1983-11/30/1983
Box 3-JGR/Appointee Clearances 12/01/1983-01/31/1984
Box 3-JGR/Appointee Clearances 02/01/1984-02/24/1984
Hugh Hewitt
, with the help of
Generalissimo Extraordinaire Duane
(aka
Radioblogger
) has set up a system by which bloggers can volunteer to shuffle through a box or two of Robert's papers from his White House days under Ronald Reagan. Although not a lawyer, I volunteered to sift through the three boxes listed above.
Here is my report:
Many if not most of the documents in these three "boxes" have been exempted from the Freedom of Information Act on the grounds that, "Release would constitute a clearly unwarranted breach of personal privacy."
Much of the rest are memos to Roberts from others. The remainder of the documents are essentially memos from Roberts vetting various Reagan nominees and appointees to various mundane and esoteric Executive Branch task forces and advisory committees.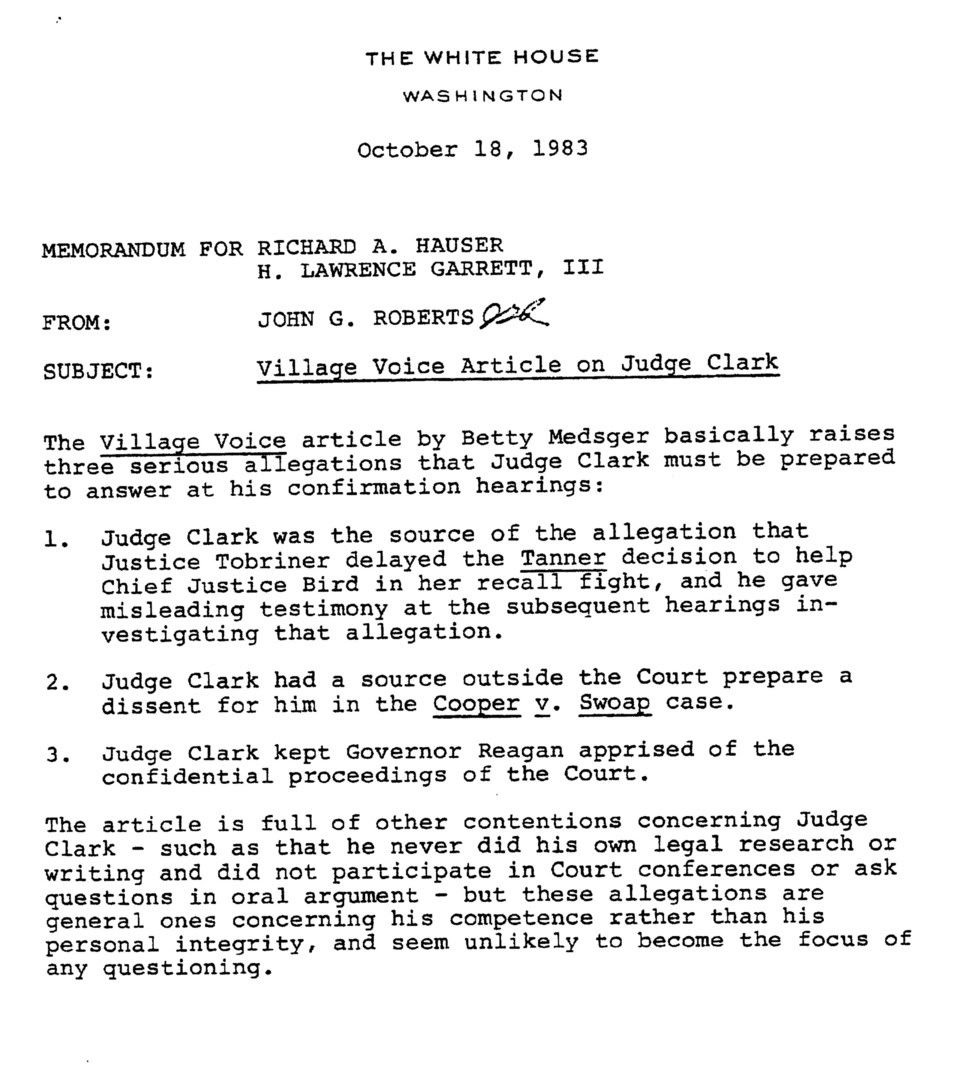 The only document of even modest interest concerns a correspondence relative to the pending nomination of
William Clark
(then serving as assistant to the President for national security affairs) to the position of Secretary of the Interior.
In a letter dated October 14, 1983, the environmental group,
Friends of the Earth
, sent a letter to "Members and Staff, Senate Energy and Natural Resources Committee." The letter included a copy of a long and detailed
Village Voice
article by Betty Medsger, dated July 5, 1983, and entitled, "William Clark's Dishonorable Past."
Although Roberts' copy of the article has no markings or notations, he did compose a memo to Richard A. Hauser and H. Lawrence Garrett, III on October 18, 1983, summarizing the issues raised in the article that would likely be brought out during his Senate confirmation hearing.
Robert's memo is all business. In it he summarizes the three most serious issues raised regarding Clark's "integrity" and recommends that Clark should be prepared to answer these questions at his confirmation hearings.
The memo also refers to other issues raised in the article concerning Clark's "compentency." Roberts' opinion, however, suggests that he did not anticipate that these issues would serve as fodder during the confirmation hearings.
Although Clark was a very close, personal friend of Reagan's (Reagan had appointed him to the California Supreme Court while Governor of that state), Roberts' advice appears completely unbiased over either the merits of the charges or concerning Clark's qualifications for the office.
Certainly no smoking gun here! Only evidence to Roberts' credit.
You can click on the memo to make it large enough to read. You can also go to the Box site
here
and scroll down to read the long
Village Voice
article if you are so inclined.