Tears At Taize--Brother Roger Becomes An Unlikely Martyr
A great man--a good man--a Godly man--was murdered last evening. For no apparent reason. Brother Roger was 90 years old. 2,500 people were gathered together for worship at the ecumenical Christian community called
Taize
he founded in France in 1940 when a 36-year old woman from Romania pulled out a knife she had purchased the day before and slit his throat. He died within minutes.
Brother Roger, who's real name was Roger Louis Schutz-Marsauche, had sheltered refugees, including Jews, during the Nazi occupation. At one point he had to flee to his home nation, Switzerland, to avoid arrest and possible execution by German officers. In 1944 he returned and was joined by others who shared his vision of a contemplative spiritual reconciliation between the various branches of the Christian faith.
During the 1950's, a particular ministry to youth was established. Since those days literally hundreds of thousands of young people, as well as adults, have visited, stayed, studied, worshiped and prayed as part of the community. Today there are over 100 brothers representing both Roman Catholic and Protestant traditions.
Out of the community arose, among other things, an approach to music in worship that emphasized the full participation of the gathered community.
Simple music
, often with the congregation singing in response to a Cantor, captured the quiet, reflective & prayerful spirit of worship at Taize. Haunting, beautiful and easily recalled melodies are used to embrace simple lyrics, typically taken directly from scripture.
Through this music, collected and recreated by those who have visited Taize on personal spiritual pilgrimages, the ministry and reconciling vision of Brother Roger has spread throughout the world.
Pope Benedict XVI, who, as Cardinal Ratzinger, served (reportedly by accident) the eucharist to Brother Roger (who is not Roman Catholic) at the funeral of Pope John Paul II, stated today that said he had received a "very moving and very friendly letter" just Tuesday from Brother Roger.
According to
FoxNews
, President Jacques Chirac praised Brother Roger as "one of the most remarkable servants of the values of respect and tolerance," while German Chancellor Gerhard Schroeder said he regarded Brother Roger as one of the "great contemporary personalities of religious life."
Schroeder praised him for sheltering Jewish refugees during World War II and later fostering reconciliation in Europe.
Archbishop of Canterbury Rowan Williams, spiritual leader of the Church of England said, "Brother Roger was one of the best-loved Christian leaders of our time and hundreds of thousands will be feeling his loss very personally, and remembering him in prayer and gratitude."
Gia Music, which distributes the music of Taize, has a moving tribute to Brother Roger today
here
. They are also graciously offering free on-line access to several pieces of Taize music for those who would like to use them for private devotion or public worship in remembrace of Brother Roger.
Today's article on
Brother Roger in Wikipedia
concludes with these words,
His death, in full view of 2,500 horrified young pilgrims at the Reconciliation Church, turned a man many already believed to be a saint into a martyr.
The Taize Community itself released
this prayer
:
Christ of compassion, you enable us to be in communion with those who have gone before us, and who can remain so close to us. We confide into your hands our Brother Roger. He already contemplates the invisible. In his footsteps, you are preparing us to welcome a radiance of your brightness.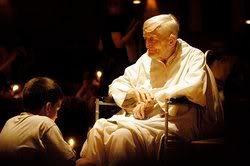 Brother Roger: With love and affection we entrust your blessed soul to the love and mercy of Almighty God; in the sure and certain hope of resurrection to eternal life. And let all God's people say, "Amen!"