Sarah Michelle Lunde Found Dead
Note #1: So many have visited this post but few have left a comment. Please let me know why Sara's story is of interest to you, personally. Thanks, B of P
Note #2: A more recent post on Sara can be found
here
.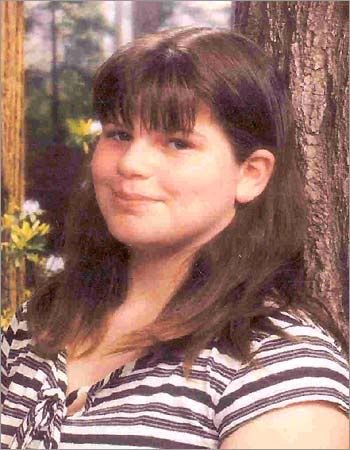 Although it is not yet official, it appears certain that the
body of a teenage girl found
today half-submerged in a pond just 1/2-mile from her Florida home, is that of 13 year-old
Sarah Michelle Lunde
, whose disappearance was reported last Monday, April 11.
Hillborough Sheriff David Gee told reporters, "We need now to make a positive identification. Certainly I don't think there's that much coincidence that we would have something that close [to the family home]."
Sarah had been wearing a green half-cast on her wrist when she disappeared. Gee added that, having seen the body, "the green cast is apparent."
It is not yet clear what happened to Sarah, but suspicion is revolving around 36 year-old David Onstott, a local registered sex offender who had, at one time, been dating Sarah's mother. He was seen in the house by Sarah's brother at 4am last Sunday morning asking where Sarah's mother was. He then grabbed a half-empty beer bottle off of the kitchen table and disappeared.
Sarah had last been seen by her brother on Saturday night after returning from a church youth event. According to her brother, she was not home when he returned at 4am the next morning. Her mother, believing her to be at a girl friend's house did not report her missing until Monday morning.
Sarah had run away from home several times before, had spent time in foster homes and, when she was 9, had been hospitalized out of fear that she might injure herself.
It is possible, of course, that she ran away, stumbled into the pond and drowned. It is also possible that she ran away and commited suicide. The more frightening scenario would involve sexual abuse and murder.
According to
FoxNews
, volunteer searchers have not only included Sarah's estranged father, but also Mark Lunsford, whose 9-year-old daughter, Jessica, was found dead last month after disappearing from her Citrus County home, and Roy Brown, whose 7-year-old daughter, Amanda, was killed by a convicted child molester in 1997.
How can these things be prevented? Can we morally lock up every paroled child molester or rapist or anyone previously found guilty of sexual assault and throw away the key? While such a law might have saved Amanda, Jessica, Sarah and other victims, would such a law be fair, or just for all?
While I believe that capital punishment is a legitimate punishment when carefully administered by a legitimate goverment guided by the due process of law, I have personally sought out it's abolishment on the grounds that it has not been always administered in a fair, just or doubt-proof manner. In the case of the sexual abuse and murder of a minor child, however, my feelings lead me to consider making an exception.
Meanwhile, in California, the search continues for 14-year old Ashleigh Markley, who disappeared from her grandmother's home in Lincoln on March 29.