New Year's In Hawaii -- Complete With Rays, Sharks & Sunsets
New Year's Eve Sunset in Hawaii
As we do each year
my wonderful wife and I spend New Year's Eve staying at a nearby hotel or resort. We do this (along with hundreds or thousands of other folks who live on Oahu) just to get away from the
smoke from fireworks
and firecrackers (which are legal in Hawaii).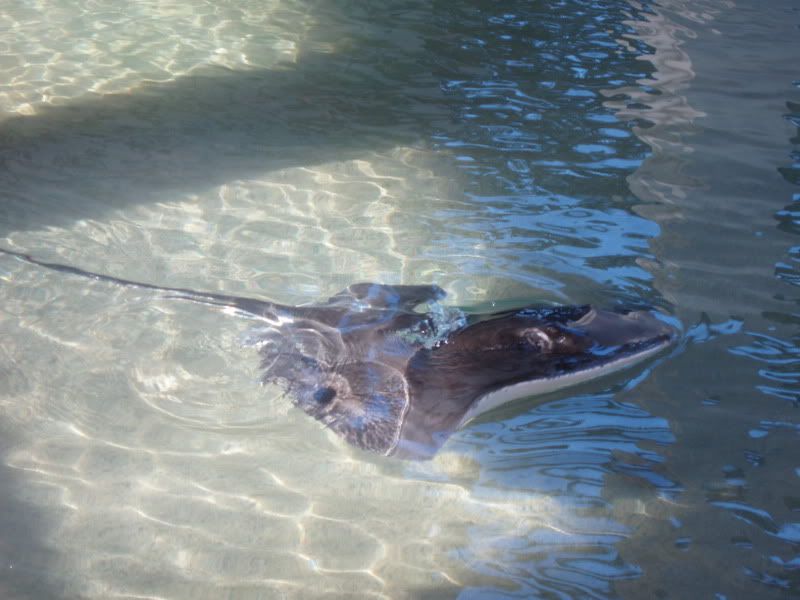 A "domesticated" Ray at Ihilani Resort
This year we stayed at the Ko Olina Beach Resort. On New Year's Eve we walked a few blocks to the nearby Ihilani Resort to see what the higher-class folks were doing! Here they have pools filled with tropical fish and, as you can see from the pictures, rays and Hammerhead Sharks, too! Both are very creepy in their own, unique ways. The rays were especially interesting in the early evening when they became very active, lifting their heads out of the water to look around.
An Ihilani Hammerhead Shark
Sunset came shortly after our visit to the sharks and rays. It was, as usual, just another beautiful Hawaiian sunset. It was very romantic too. I only took this one photo. The rest of the way back to our own resort I was busy holding hands with my wonderful wife! What a nice way to say "Good-bye" to 2006.
Happy New Year's and Aloha!