Hawaii Falls Short Against Oregon State 35-32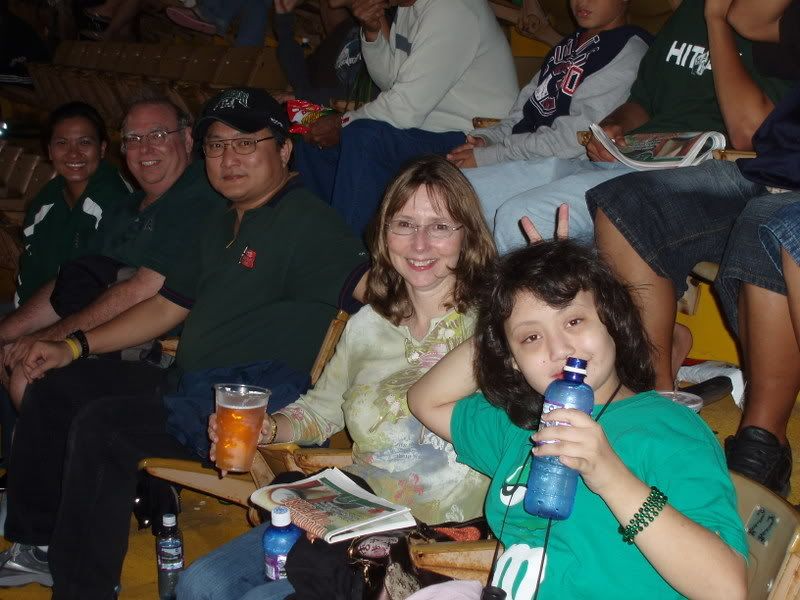 The friends who took me to the game
I just returned home (11:40 pm) from the last regular season NCAA Division 1-A college football game of the national season.
My team played Oregon State University.
My team lost.
But they should have won.
Hawaii lost 35-32 after Oregon State suffered a self-inflicted safety in order to run down the clock at the end of the game.
Four times the Hawaii offense was in the Oregon State red zone and failed to score a point. They missed two field goals (40 & 50 yards), dropped a touchdown pass (after a hard defensive hit, threw an interception at the 1-yard line (that was ruled a touch-back) and watched QB Colt Brenna sacked repeatedly nearly every time they neared pay-dirt.
The UH marching band played at half-time
Oregon State, on the other hand, took advantage of big plays, returning a kick-off 102 yards for a touchdown and, on the first play following the interception touchback, fired off an 80-yard touchdown bomb.
UH's Colt Brennan watched as his Heisman Trophy nomination disappeared before the eyes of a sold-out crowd of 50,000 fans at Aloha Stadium.
Brennan seemed to be badly shaken by a series of early sacks and interspersed his usual pin-point passes with others that were too long, too short or just plain lousy.
ESPN broadcast the game. Here is one of their cameras.
In spite of all the uneven play the UH Warriors had a first down on the Oregon 19 with just 2:30 to play in the final quarter. The fans believed that another miracle was about to be performed...but the fourth down pass wobbled badly and fell far short of Brennan's receiver and the best Quarterback in the United States walked off the field with his head in his hands, feeling the full burden of his mortality for, perhaps, the first time this season.
Oregon State played an almost perfect game. Their offensive and defensive lines outplayed Hawaii consistantly. Hawaii came from behind to tie the game three separate times, but never led once.
The Oregon State Beaver fans had a good time
The better team won tonight. It was a sad end to an otherwise wonderful season for the Hawaii Warriors. They will have one chance to atone this loss when they play Arizona State in the Aloha Bowl on December 24.
I can only hope that they will have learned enough from tonights game against one Pac-10 team to be able to defeat the next one to come to town later this month!