Hawaii Wins Thriller Over Purdue
Well, I was there and I saw it happen. I'm still not sure how but the University of Hawaii Warriors proved that they are worthy of a top-25 ranking by coming from behind to defeat Purdue 42-35 this evening.
Actually, I do know how they did it. They did it by never quitting, even when they were behind by eight point with only 6-1/2 minutes left in the game.
They did it by getting a 52-yard field goal from a kicker who has missed an embarrassing number of point-after kicks this season.
They did it by handing the ball to Nate Ilaoa and letting him run for 159 yards (he also caught 7 passes for 52 yards more).
Most of all, they did it by having Colt Brennan keep his cool long enough to throw for three touchdowns in the Fourth Quarter including the winning score with 1:09 left on the clock.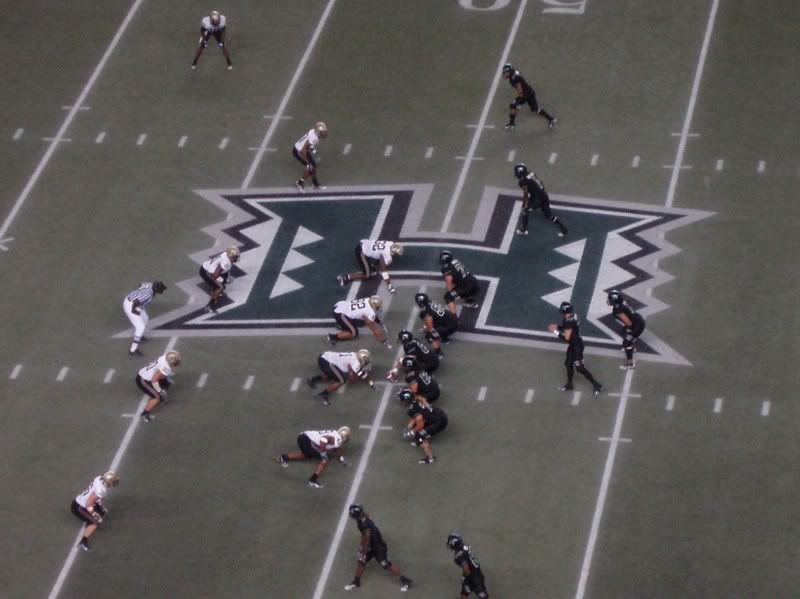 Colt Brennan and the Warriors line up for a play
All in all Hawaii racked up an impressive 653 total offensive yards compared with Purdue's 472.
Colt Brennan set a new NCAA Division I record for the most touchdowns thrown by a quarterback over two seasons (he still has two games to play).
Brennan now needs only 3 more passing touchdowns to set a new Division I NCAA record for the most thrown in one season!
Purdue proved themselves to be a well-coached and well-disciplined team. They can hold their heads high as they head to a season-closing bowl game with an impressive 8-5 record.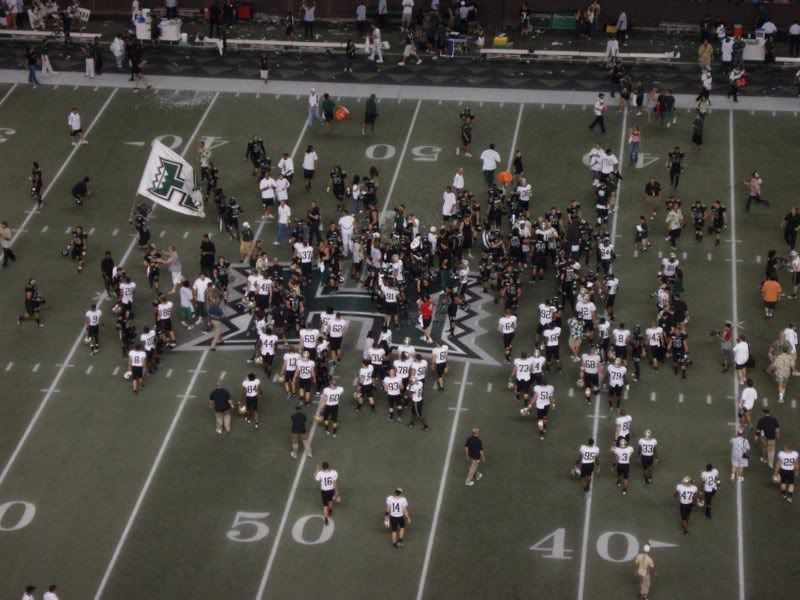 The players swarm onto the field as the game ends
Hawaii, however, proved that it can win games under pressure and from behind. They have already shown the nation how they can win with huge scores. The 42 they scored today was the fewest scored in a game since their season-opening loss to Alabama.
Next week they will play Oregon State (8-4) coming off their dramatic win over Oregon on Friday.
Oregon State, as you may remember, is the only team to defeat USC this season; one of only two teams, in fact, that has beaten USC in the past THREE seasons!
42,000+ very excited fans saw the game
I'll be at the game next Saturday, cheering on the 10-2 Hawaii team. It will be a good game. If another 42,000+ screaming, stomping fans turn out like they did tonight, the home-team advantage will quite possibly tip the scales in their favor again!
That would be nice.