"Thank You , Vets!"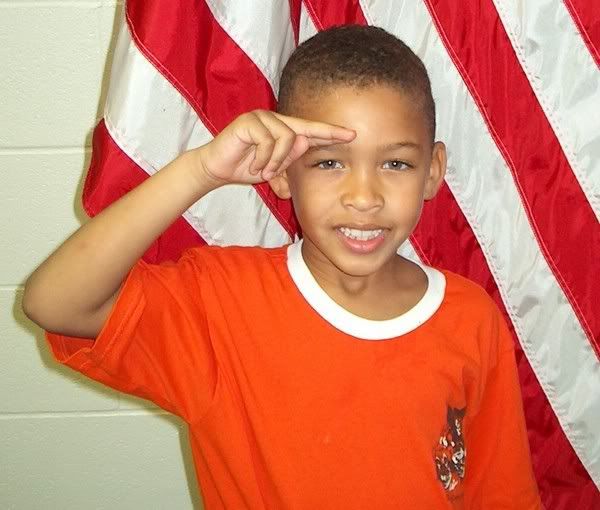 I took
this photo off of the internet
. It shows a Cub Scout named "Tommy." He participated in a Pinewood Derby race. I don't know why he is shown saluting in front of an American flag but the picture struck me as one of the best ways to honor our American military veterans today.
I have several friends who are in Iraq and Afghanistan at this very moment, members of my congregation. When they return home from this deployment (and we pray often for their safe return) they will be veterans themselves; veterans of a foreign war. They will have known friends who did not return from the deployment either whole or alive . They will carry scars of separation from spouses, children and families. They will have doubts and guilt over their own contributions or lack of same to the war effort. They will have served their country (and each of us who loves this country) honorably and well. They will have been placed by their nation in a setting that will have produced many heroes. Not all of those who return will be heroes, of course. But there will be some who will have demonstrated personal valor that will be recognized and rewarded.
From knowing these men and women I can guarantee that everyone who returns home acclaimed to be a hero will remember one or more soldiers who, whether recognized or not, will be for them the real heroes of their tour of duty.
There has been a debate this year as to whether veterans should wear their medals today or not.
I am not a veteran and will offer no opinion on this matter.
I will, however, affirm that it is not the medal that creates a hero.
It is not a medal that creates a veteran.
It is not a medal that makes the sacrifice, the suffering, the fear and the uncertainty of war worth while or bearable.
What makes it worthwhile is the proud salute of a smiling child; the warm, welcoming embrace of a loved one upon returning home; a personal conviction that something good and right was accomplished; and, of course, a sincere thank you from a grateful nation.
To all vets, old and young:
"Thank you and may God bless you now and always for all that was good and right in your service and sacrifice. Happy Veterans' Day!"