High Sierra Vacation 2006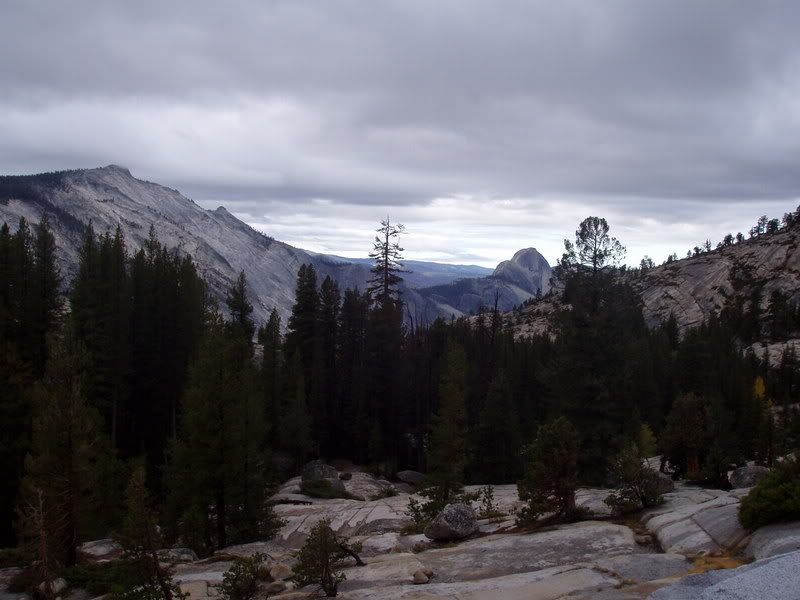 Half Dome from Olmstead Point
Well, my brother and I did it again! Hiking and fly fishing in the Sierra Nevada (you can see previous trips
here
and
here
).
This year I couldn't get over to California until the first week of October. A major storm was threatenting to bring wind and snow across the mountains so we kept our hikes more modest than usual. The storm never materialized but, finding ourselves in the midst of all the glorious Fall foliage, we found plenty to see and do and enjoy in any case!
Our first hike was up Mine Creek from just below the Tioga Lodge (which is just below Tioga Pass on the east side of Yosemite National Park). The trail is very easy as it winds past the remains of Bennettville, an old mining camp associated with the abandoned Great Sierra Mine nearby.
Soon comes Shell Lake and then Fantail Lake.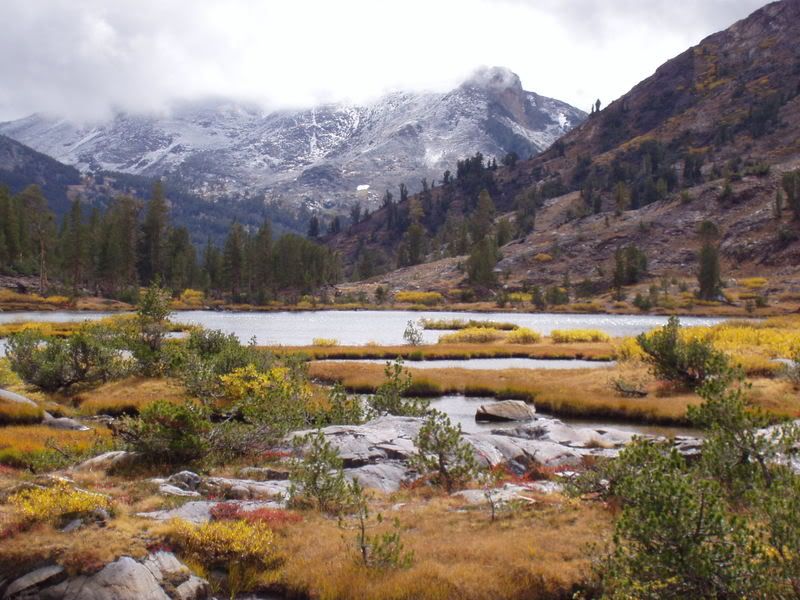 Fantail Lake
The sky was thick with dark and dreary clouds but the sun would burst through every once in a while and blind us with the brilliant yellows of the high elevation scrub willows that seemed to be everywhere!


Mine Creek
Behind us rose 13,057 foot Mt. Dana with either the season's first or second dusting of snow.



Mt. Dana with Fantail Lake
Then came a slightly more vigorous climb up to Spuller Lake.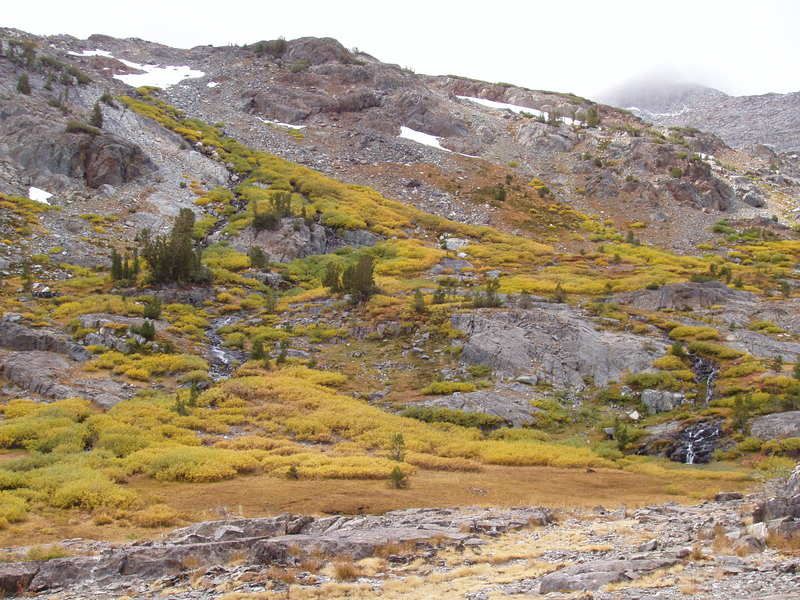 Looking up toward Spuller Lake from above Fantail Lake

Spuller Lake & Mt. Dana
Just above this Spuller is a good view down into the neighboring canyon where we could see White Mountain towering above Green Treble and Big Horn Lakes below.



Big Horn Lake and White Mountain
We caught few fish in the lakes but did catch (and release) many small Brookies and Rainbows from the creek.



Along the trail
On the return the view of the road winding down Tioga/Lee Vining Canyon was, as always, breathtaking.

Tioga Pass Road
A drive up to Lundy Lake brought us even more glorious Fall colors



Along Lundy Creek
as well as a nice Rainbow or two caught downstream in Lundy Creek.



Lundy Creek Rainbow-Photo by my brother

Lundy Lake Aspens
Above Lundy Lake I tripped on a beaver-cut tree stump and smashed my digital camera into a granite boulder. From then on my photos were taken with disposable cameras (sigh).

Later, above June and Silver Lake (south of Lee Vining), we wound our way beneath Mt. Carson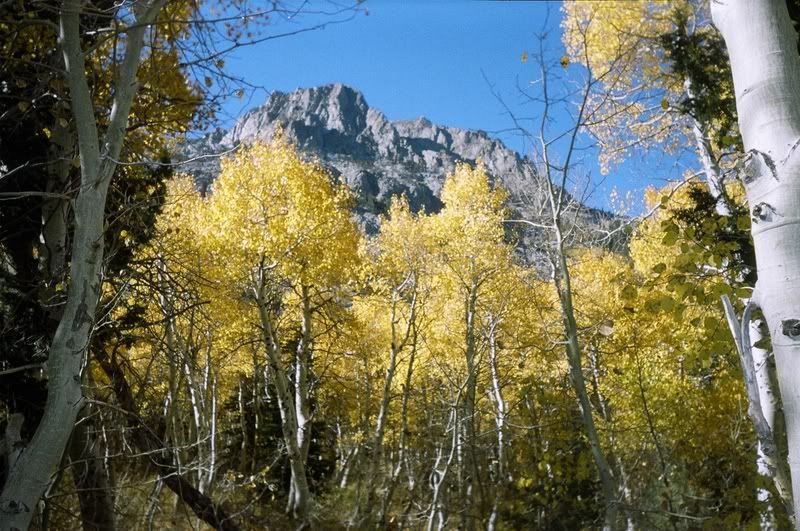 Aspens & Mt. Carson
up two separate canyons to Yost Lake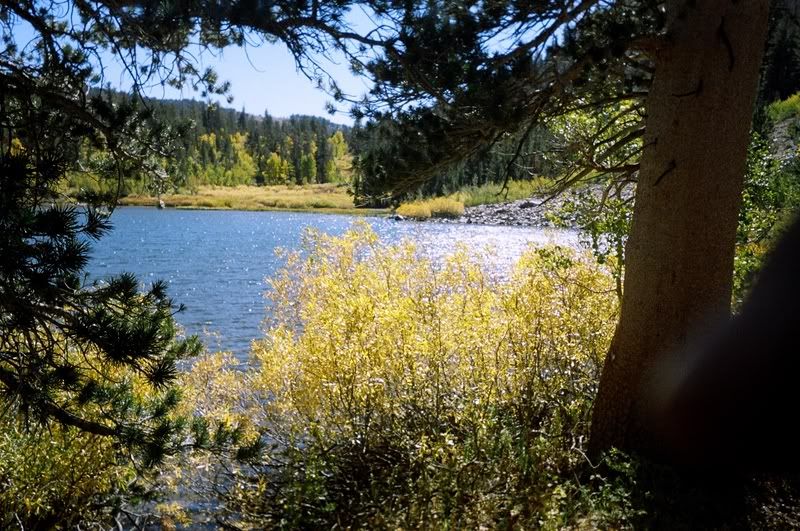 Yost Lake
and Fern Lake.



Me at Yost Lake--Photo by my brother
Although Fern is the prettier of the two they proved to be little more than large ponds or meadow lakes, shallow, filled and filling with sediment. Even so, we caught a few fish in Fern and enjoyed the colorful Aspen and willows.

Aspens near Fern Lake
Mono Lake was also worth a visit as we stood among the professional photographers watching the sun rise on the tufa formations at Navy Beach.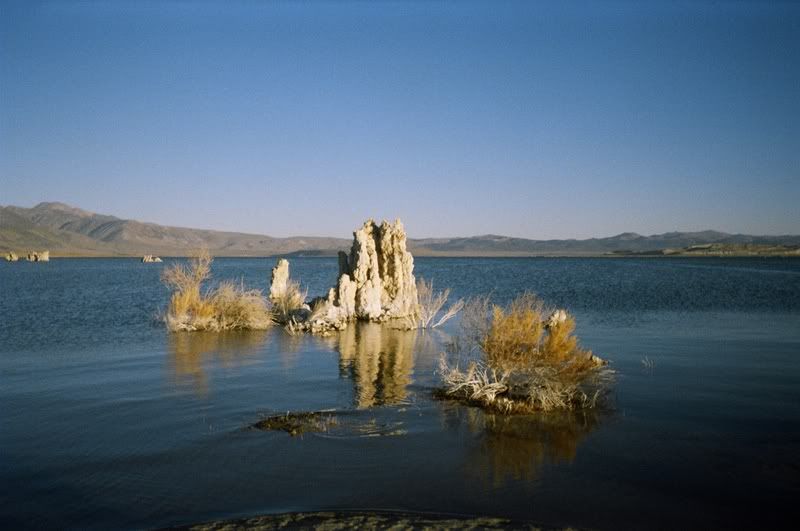 Navy Beach Tufa, Mono Lake

Navy Beach Tufa, Mono Lake
Aspens were also in full glory along the lower stretches of Lee Vining Creek as it found its way into the briney expanse of Mono.



Along Lee Vining Creek

Along Lee Vining Creek

Along Lee Vining Creek

Along Lee Vining Creek
Several days later, on our way back to Modesto, we passed through South Lake Tahoe and over State Route 89 to Hope Valley.



Hope Valley

Hope Valley, Little Carson River with Freel's Peak looking east
Wonderful colors and scenery followed us all the way over Carson Pass (on State Route 88) and down to the San Joaquin Valley where our annual adventure came to a close.



Hope Valley aspens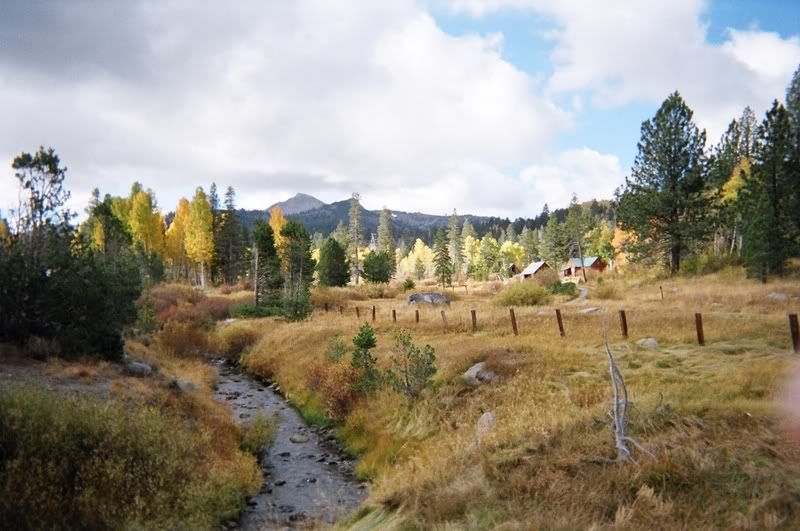 High Country ranch, Hope Valley
I hope you enjoyed sharing the trip with us!