Pearl Harbor Day In Hawaii--64-Years Later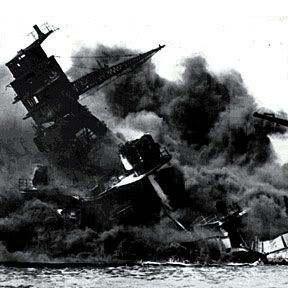 Today is December 7th. At 7:55 am my house was rocked with the roar of low-flying military jets. A tight formation of F-16s curled over Mililani on their way to a fly-over of Pearl Harbor and the USS Arizona Memorial.
It was at 7:55 am on this date in 1941 that the Japanese surprise attack on Pearl Harbor began.
Each year Hawaii remembers with a ceremony traditionally attended by representatives of the nation of Japan. Wreaths are laid and flower leis tossed into the water from the Arizona Memorial, that stands astride the remains of the battleship that carried 1,177 sailors to their watery grave on that "infamous" Sunday morning.
Living survivors of that day still gather to remember. Their numbers growing smaller each year. Those who live in Hawaii volunteer at the Memorial every day, greeting visitors and telling the stories of the death and heroism of their friends and comrades. Soon, they will be gone and only their stories will remain.
This year, special honor was given to the USS Ward, a that happened to be on patrol off the entrance to Pearl Harbor that morning. At around 5:45 am someone on the ship spotted what appeared to be the superstructure of a miniature submarine, heading in the direction of the harbor entrance.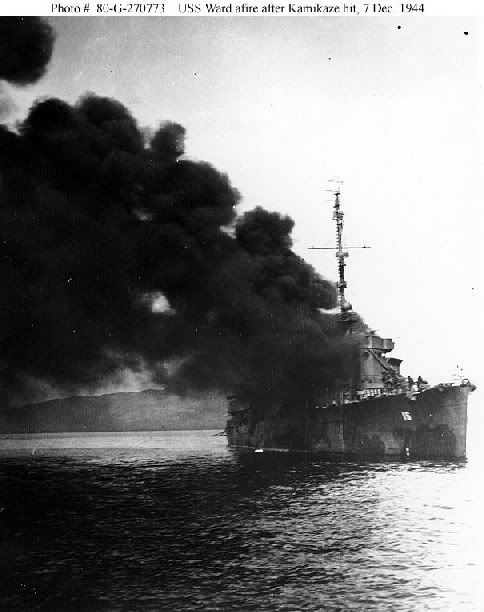 Ironically, the USS Ward was hit by a Japanese kamakazie plane on December 7, 1943, exactly three years after the attack on Pearl Harbor
The command was given to fire. The ship fired twice. Because of good aim or good luck, the sub was hit and sank to the bottom, taking its two Japanese crew members with it.
Historically, this is considered to be the first formal engagement between the United States and Japan in WW II....one hour before the attack on Pearl Harbor began.
The remains of the miniature submarine were discovered not too long ago, in 1200 feet of water not too far from where the USS Ward's log said it would be. Its exact location has not been revealed to protect it from scavengers. It is now protected by law.
Those who have visited the USS Arizona Memorial over the years know how emotional that experience can be. I, personally, have visited it five or six times, once for an evening retirement ceremony for a naval officer who is a member of my congregation.
The ship, although under water for these past 64 years, has never been de-commissioned. As such, the USS Arizona is treated as any other active-duty ship in the American naval fleet. Visitors must receive "permission" before being piped "on board" the Memorial.....which is considered to be a part of the ship. Naval personnel offer the appropriate salutes to the ship and to her crew.
If you know where to look a visitor can find bullet holes and shrapnel damage on numerous structures standing at Hickam Air Force Base, Pearl Harbor, Wheeler Army Airfield and Schofield Barracks. It is a sobering thing to walk up a flight of steel stairs in what was once a Hickam barracks and literally step on a hole punched through the 1/4-inch steel by a 20-mm shell on that long-ago day when the United States was attacked by Japan.
There are many beautiful and wonderful natural and historic sites in Hawaii. But for me, and for many others, there are none that impress more than the National Cemetary of the Pacific (Punchbowl) and the USS Arizona Memorial.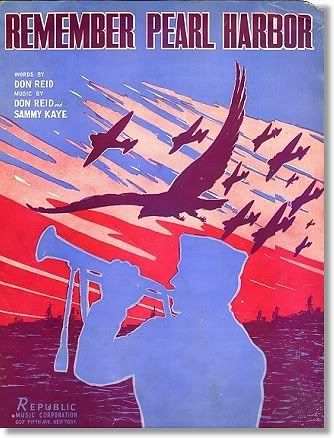 Back in 1942 a song called, "Remember Pearl Harbor," became a national hit. I am glad that we still remember. On the one hand, it was a day of defeat and humiliation. On the other hand, it was the day a nation that would soon become the most powerful country in the history of the world "woke up" and roared.