Court-Martialed Black Hawk Pilot to Spend 3 months in Jail for Causing Fatal Crash
Although we live in the same area of Oahu, I cannot say that I have ever met
Chief Warrant Officer 3 Darrin Raymond Rogers
. Perhaps we have stood in line together at the bank, sat next to each other as we waited for our cars to be repaired at the local service garage, or attended school orientations together with our children.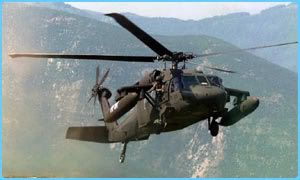 I do know, however, that Rogers was found guilty of "negligent homicide, reckless endangerment, property destruction and failure to obey orders," court-martialed, sentenced to 120 days in prison and forced to retire from his military career.
This is all in response to his piloting a Black Hawk helicopter in a violent and high-risk maneuver over Afghanistan after being egged on to do so by the contingent of Marines he was transporting. As he tried to pull out of a steep dive he lost control and crashed, killing one soldier, injuring everyone else and destroying a $6 million aircraft.
While my sympathies go out to all involved (including Darrin Rogers and the family of Crew Chief Daniel Lee Galvan of Texas who was killed) and in spite of all the "top gun" and "right stuff" skill that is necessary for these pilots to be at the top of their game, I can't help but wondering, "
What if
......."
What if
Darrin Rogers had been speeding down the local H-1 Freeway late at night with a car full of passengers, swerving around and about the empty traffic lanes as he showed off his skill as a high-speed driver?
What if
, as he exited the freeway, he lost control of the car, sending it sliding and rolling into a natural gas storage facility?
What if
all the passengers survived with injuries except for one who died in the car?
What if
the passengers had all been highly trained technicians, transported all the way to Hawaii to peform a vital mission for their company?
What if,
as a result of the crash, the company lost millions of dollars in medical costs, legal settlements, death benefits as well as millions more in the collapse of the business project?
What if
, as a result of the crash, a natural gas line had caught fire leading to an explosion that destroyed $6 million of personal property?
What do think will happen to the driver of that car? Lets see: 1. Fired from his job; 2. Three months in jail; 3. .......uh ......uh ....... no, I can't think of anything else ......that's it .......that's all. Sure. Right. I doubt it!
I think that, in this particular case,
military justice
turned out to be a pretty good deal for Darrin Rogers.