Bear In Heat Cools Off In Swimming Pool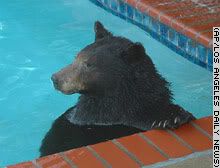 When a 140 pound black bear wandered into her sububan San Fernando Valley back yard, Maryam Salahael grabbed her children from the swimming pool and raced into the house to call for help.
The bear eventually took a short dip in the pool (see story
here
) before California Fish & Game officers arrived. After tranquilizing the bear they took her into the Santa Susanna Mountains where she was released.
Officer Cindy Wood is quoted as saying, "It looks like it's possibly in heat. She probably just made a wrong turn and ended up in a neighborhood."
Gee, you'd think it would be the
male
bear who wouldn't think to stop to ask for directions!