"Crikey!" Steve Irwin Killed By Stingray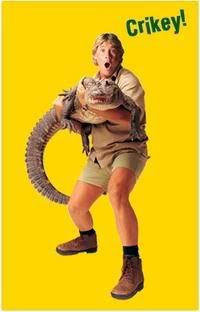 Austrailian naturalist Steve Irwin, known to millions around the world as the "Crocodile Hunter," died today while diving along the Great Barrier Reef. Irwin was filming a new "adventure" when, according to local reports, he was stung on the chest by the barb of a stingray.
Irwin was a favorite of youngsters and adults alike, made famous by his seemingly fearless attitude towards anything in the natural world that might be considered lethal.
Irwin had cheated death on several occasions, including nearly dying from a poisonous snake bite before receiving the antidote.
I have always considered Irwin to be a death waiting to happen. But, unlike other "extreme sports" activists, Irwin invited us to join him in his adrenaline-rush, life-and-death interactions with the teeth, the fangs, the claws, the barbs and the horns of natures deadliest animals.
He presented such things with humor, intelligence and clearly felt more respect for the life, health and well-being of the creatures he studied than he had for himself.
Just like a non-roped rock climber or a skier who starts avanlanches for the sheer thrill of trying to outrace them, Irwin enjoyed the excitement of "getting away with it" time and again.
But the old saying is true, "Don't play with matches or you will get burned."
Today, Irwin played with danger once too often and got burned . . . and died.
I expect that, at least on the level of the popular entertainment scene, the word "Crikey" died with him.
Rest in peace, Steve Irwin. And may God provide love and comfort for your wife, your two children and your extended family and friends around the world . . . especially the children who have idolized you and come to believe that you were both invincible and immortal.
Irwin was 44 years old.