Iran Has Back-Up Plans In Case Nuclear Option Fails
If Iran fails in its quest to acquire nuclear weaponry they have at least two back-up plans in their hip pocket.
The first is, of course, the tens of thousands of
volunteer suicide bombers
that have been recruited and trained to spread terror around the world should that ever be deemed necessary.
Less known, perhaps, are the members of Iran's women's paramilitary units.
The photo above, gleaned from this week's
BBC photo gallery
, shows chador-clad paramilitary women in Tehran boning up on their rifle skills.
I should think that there must be some religious concession that permits them to remove the veil before taking aim. Killing infidels as part of jihad, apparently, seems to be one of the allowed exceptions.
This photo
from 1986 shows Iranian women practicing for the police force.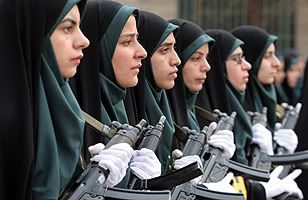 Here are some recent graduates from the Tehran Police Academy via AP (March 11, 2006).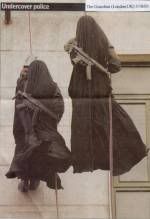 2004
women paramilitary trainees
do everything the men do (including rappelling down buildings) but with more challenging clothing.
Lastly, just in case you are not concerned, consider the fact that the only Iranian woman to participate in the Athens Olympics was
Nassin Hassan Pour
, entered in the pistol-shooting events!