Muslim Brotherhood's Gains In Egypt's Parliament Viewed As "Move to the Center?"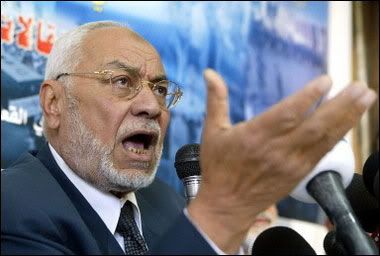 An
AP report
tells us the following,
Minimizing election gains by the Muslim Brotherhood, Egyptian Ambassador Nabil Fahmy said Thursday his country was moving toward a centrist and not an Islamist political position.
Mohammed Mehdi Akef, the actual leader of Egypt's Muslim Brothers, seemed to have a different perspective, however.
In an interview
with the state-owned English language Ahram Weekly, he said,
"I declared that we will not recognize Israel which is an alien entity in the region. And we expect the demise of this cancer soon."

Yep. That sounds centrist to me!
Note: The banned but tolerated Brotherhood won 20 percent of the seats in the 454-strong (Egyptian) parliament, making it the largest opposition bloc in the house.
ht:
lgf