Panama Canal Miraflores Locks Video Cures Bordom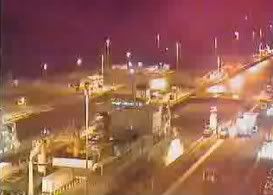 Bored? Never fear....hope is on the way!
Just click
here
and watch one week of shipping traffic at the Miraflores Locks on the Panama Canal condensed down to just over 11 minutes.
BoingBoing
describes it as hypnotic...
Watching the stately dance of the giant ships, day and night, passing through the locks, is like watching ogres waltz -- their grace is perfectly offset by their hulking, container-stacked brutal unloveliness.

As a bonus, watching this video is guaranteed to cure insomnia.