Survival Stories from New Orleans
This one from the
NOLA
site listing for "
Survival Stories
:"
234. (re) Sheriff Marlin Gusman by fallont, 9/5/05 0:20 ET I am an employee at the Orleans Parish Criminal Sheriff's Office in the medical department and I am outraged at our Sheriff's actions. Myself along with 29 other women deputies and 3 other medical staff were left on the roof of the womens prison for 4 days. Gusman made it his business to rescue the inmates and promised to return for us. It was a promise that would never be fulfilled. We ran out of food and water and lived on a roof. Gusman is not concerned at all abut his workers and I will never respect him ever again.It took a stranger to save us and it should have never gotten to that point. I will make it my business to let the world know about his actions. Everyone will hear my story who i swilling to listen. Lauren Turl
From the
Montreal Gazette
:
Joe O'Neal struggled out of the swamp and onto Highway 603 just before dawn, the cuts on his arms and legs fresh evidence of a night spent struggling for survival.

"I swam out. There was no other way - it was just too deep," said O'Neal, a 44-year-old carpenter.

O'Neal weathered early parts of the storm on the rooftop of his father's house along Bayou LaCroix, but jumped when a 6.1-metre storm surge inundated the home.

He spent almost 18 hours in the water, clinging to downed power lines, taking refuge in an abandoned shed and - finally - swimming three kilometres to safety.

"There were snakes crawling up in there and rats," said O'Neal, who was barefoot, shirtless and wearing only black swim trunks. "I saw horses floating by. I saw deer floating by. It was just godawful. But I wasn't going to quit. I wasn't going to die. I knew I was coming out of there."

Ferdinando Duilio, 46, wandered out of the bayou not long after O'Neal. Caught by Katrina while trying to flee from New Orleans to Alabama, Duilio and a friend tried to take shelter at an Exxon gas station. The two menclung to an outdoor ice machine during Katrina's highest winds, only to have surging water sweep them into the surrounding woods.

"We were being pushed through all the bushes and trees, hanging on until we couldn't any more. I had to let go. When the door of the ice machine fell off, I fell with the door," Duilio said. "I spent the night hanging from one tree to another tree."

The last time Duilio saw his friend, he "was still on the ice machine, floating away."
Some survivor photos from the
NOLA photo page
:
Robin Blunt, a Hurricane Katrina evacuee from New Orleans, prays during a worship service, Sunday, Sept. 4, 2005, at a shelter at KellyUSA, a former Air Force base, in San Antonio. AP Photo/Matt Slocum
Jabbar Franklin finds a moment of respite at an impromptu church service outside a restaurant in New Orleans. Franklin was rescued from his home earlier in the day and stopped by to rest and pray after hearing the gospel singing taking place. AP Photo/Dave Martin
Amy Henry, left, sings during an impromptu church service outside Copeland's Restaurant in New Orleans, La., Sunday, 9/4/05. Henry was rescued from her home on Saturday & has remained outside the restaurant to help other victims. AP Photo/Dave Martin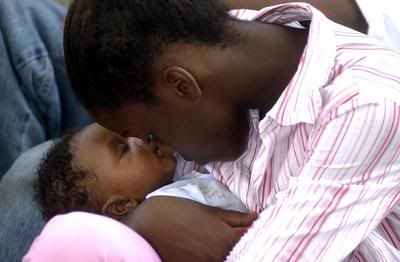 Dominique Jones, 12 cradles her brother Thomas, 2 months at Algiers Point. They walked 2.5 miles from their house. Saturday Sept. 3, 2005.STAFF PHOTO BY AMANDA MCCOY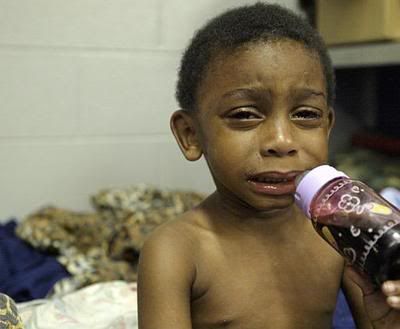 Joshwa Coyette, 3 cries inside the Houston Astrodome on Saturday in Houston. Joshwa and several of his siblings were rescued by their child care provider, Natasha Collins, who floated the children to the New Orleans Superdome on a mattress.AP Photo/Jessica Kourkounis