British Open Cracks Door for Hawaii Golfer Michelle Wie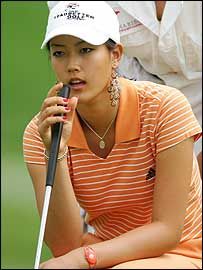 Michelle Wie, our own favorite 15-year old golfer from Hawaii, has entered the men's pro golf tour's John Deere Open. According to a new rule, the highest placing player not presently eligible for the British Open in July will invited to play in that auldest Major of all.
This means, of course, that should Michelle actually accomplish this feat, she would become the first woman golfer to ever play in the British Open....or any of the Major golf tournaments, for that matter.
Personally, if a woman is able to compete with a man on their own terms I believe that it would be wrong to deny them that opportunity. Women, being the "weaker sex" would, of course, only invite male atheletes 60 years old and older to enter their events.
It is virtually impossible for Michelle to reach her goal this year. But even so, the very fact that
the world press is talking
about it shows just how much of an impact this talented, amateur Oahu teen has already made in the world of pro sports.
Good luck to ye, lassie!