Peruvian Model Changes Her Mind: Refuses to Sell Her Virginity for $1.5 Million
According to
BBC News
, an 18-year old girl living in the dusty outskirts of Lima, Peru, recently stunned the country by putting her virginity up for sale to the highest bidder.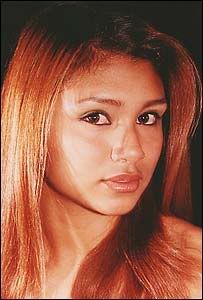 Gracia-No Longer for Sale
Gracia (last name not available) earns $60 (US) or so each month from modelling and acting but says that it is not enough to support her ailing mother and younger brother.
Her innovative idea to raise money caused many critics to declare her to be nothing less than a prostitute. Others, however, expressed admiration for her creativity and good sense to get something from what most girls "give away for free" to their boyfriends in public parks after dark.
According to Gracia, a Canadian man offered her $1.5 million because, "He said he'd prefer I didn't do it, but if I was going to do it with anyone, it should be with someone who treated me right and I think he knew his bid wasn't going to be topped.
"He was really happy when I said No."
Now that Gracia has changed her mind some are calling the whole thing a publicity stunt.
Gracia, however, expresses disappointment on the lack of compassion her desparate offer generated.
"They don't bother asking what's going on in my life, what I am like and what has forced me to take this decision. They only judge me and point their fingers at me.
"I came out and said publicly what my situation was and nobody, nobody has been capable of saying, thank you, I'll help you with something," she said.
"And there are people who have loads of money, loads of jobs."
I remember American Christian teacher/writer Tony Campolo describing the time in Haiti when he ran into a 10-year old girl on the street selling her body for money. Campolo took her up to his hotel room, ordered ice cream and spent the afternoon watching Disney cartoons with her on the television.
Campolo still wonders if that might have been the first time that girl had ever been treated as someone special for her own sake rather than for what she could offer to someone else.
While Gracia's offer and subsequent retraction might provide the plot for a good movie (sort of a mirror image of "
Indecent Proposal
") it also served to publically expose the plight of hundreds of thousands of Peru's poor.
If I was part of a charitable organization in Lima attempting ease the burden of poverty, I think I would stop by Gracia's place and invite her out for a cup of coffee. Then I would offer her a job as a spokesperson for others who consider themselves fortunate to survive just one day at a time.
Gracia could then become a positive "model" for others, showing that choosing personal moral integrity (in a manner reminiscent of the biblical
Ruth
) can help lead even the poorest girl away from the shackles of poverty; from despair to hope; from hope to freedom.
This story has touched me deeply. Perhaps it's because my daughter #2 is just about the same age. Perhaps because, as Gracia says, there are plenty of people around with plenty of money. Perhaps it's because far too many of those people love their money more than they love people like Gracia. Or perhaps it's because those rich people look a lot like me.